Adding SMS Alert to your Google Calendar can be very important to one who is on the go. It can be set to send you email and/or  SMS notifications on the time you want. For one who does not have continuous internet access, this can just be your lifesaver!
Here are simple steps you can follow:
Log in to your Google account
Click "Calendar" on the top bar

On the upper right corner of the screen, you will see a gear icon. Click on it and a drop down menu will appear. Choose "Settings".
If you haven't linked your mobile to your Google Account yet, go to Step 4. Otherwise, skip Steps 4-6 and proceed to Step 7. 
Select from the information choices that will appear as you click on each field (input your own country, time zone, etc). When you're done, this screen will pop-out:
Enter your mobile number and click on the "Send code" button. You don't need to enter your country code anymore (+63). Just enter your mobile number (ex. 917xxxxxxx).
You will then get an SMS message from Google containing your verification code. Enter the number and click "Confirm Code".
Click on "Calendar". Select "Notifications".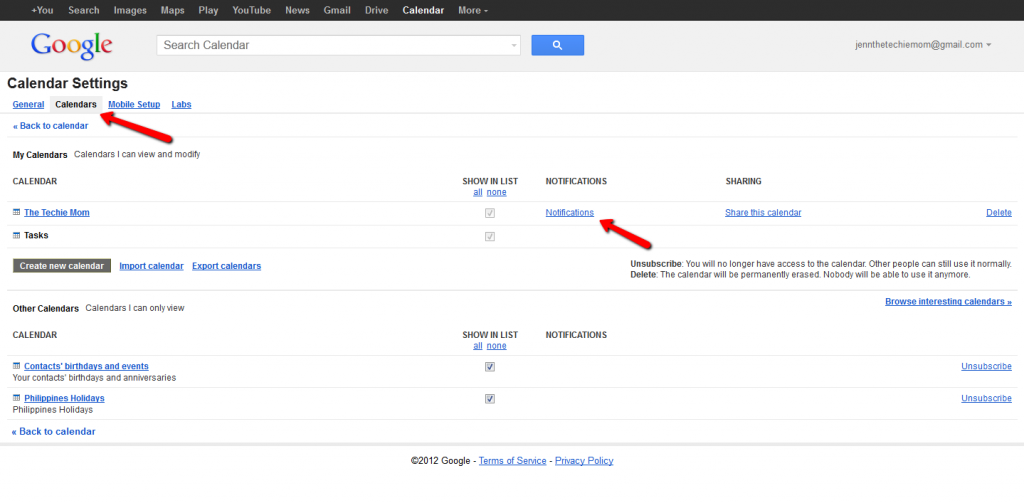 Just input your desired form of alert (Email, Pop-up and/or SMS), and the time you prefer  Google Calender to send it. Now that your mobile number is verified by Google, you can already receive SMS notification alerts from your Google Calendar!
Now you'll never miss an appointment again!
Do you have any software, apps or gadget you would like me to review? Or a particular techie topic you would want me to cover? Let me know. Feel free to contact me. or leave a comment or suggestions below 🙂
Latest posts by Jennyfer Tan
(see all)