There are hundreds of job postings on oDesk each day. These range from short-term projects to long-term, full-time work. For someone who is hoping to find his first online freelance job at oDesk, here are a couple of things to look out for:
1. Not Verified Payment Method Status. You might see three kinds of Payment Method status on the right side of the client's job postings:
Payment Method Verified.  This means that the client has already registered a credit card and is verified. This assures you that the client will pay you once the job has ended. (Note: Please check oDesk's rules about hourly and fixed rate here).
Payment Method Verification in Progress. This means that the client has already registered a credit card with oDesk and that it is just waiting for to be verified.  This at least has the assurance that the client is serious about having a long-term relationship with oDesk.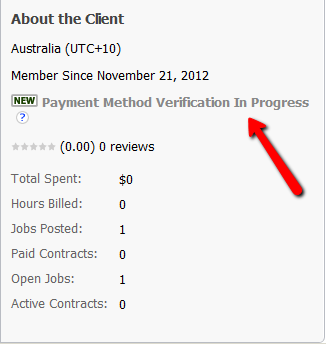 Payment Method Not Verified.  You will see a lot of postings like this.  It doesn't necessarily mean that all clients with non-verified payment method are not legit, there are some clients who are new to oDesk that are not yet familiar with oDesk's rules and regulation.  If you do apply and get a chance to be interviewed for the job, make sure you let the client know that you are able to start once his payment method gets verified.  If he does not comply, do not accept the job.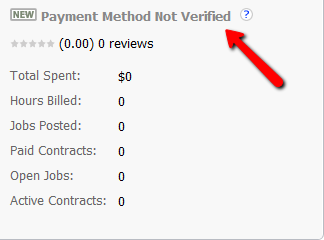 2. Job postings that is too good to be true. $100 dollars for 10 pages of encoding PDF to Word? I don't think so. You have to discern what is the best price for a particular job,  if you think it is too good to be true, then it might really be.
3. Clients with bad/negative feedback. Beware of clients/buyers who have more negative feedback than good feedback, check out what the feedback other contractors left for the client, this includes comments that are made private by the buyer.
Here's an example of a client who got more negative feedback than good ones:
Be vigilant in looking and applying for jobs.  There are a lot of scammers out there who would take advantage of people looking for jobs, most especially newbies and people who are really in need of work.
Check out my other posts on oDesk:
An Introduction to oDesk: Tips Before Applying
Tips on Writing a Good Cover Letter
Feel free to leave any comments and/or suggestions below!
Latest posts by Jennyfer Tan
(see all)